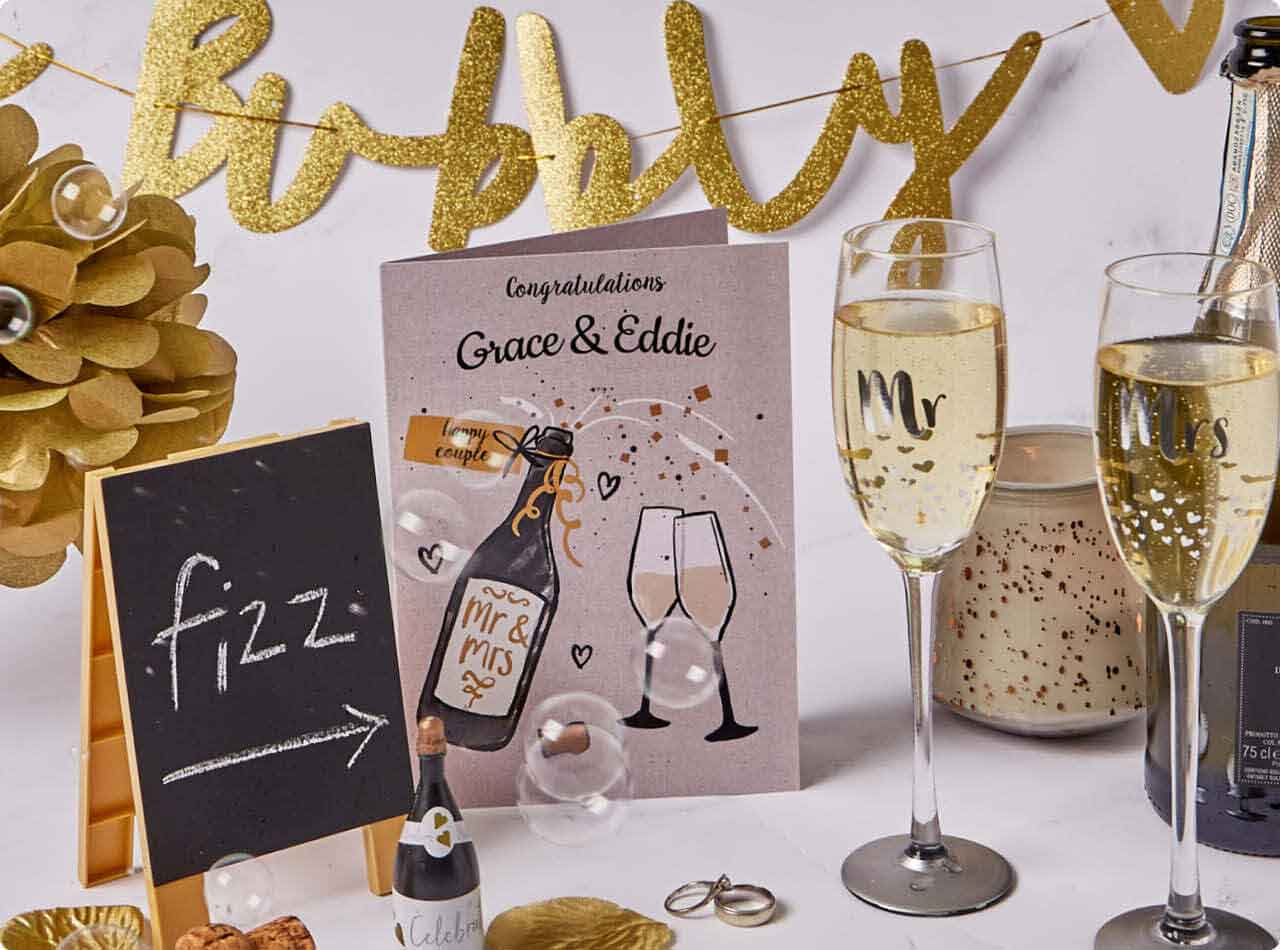 Wedding Planning, Cards & Gifts
Whether you're getting ready to walk down the aisle or are celebrating someone else's big day, we have all the wedding cards, gifts, wrap and finishing touches to help make it a magical day. From beautiful wedding invitations and save the dates to wonderful gifts and keepsakes, find everything you need to celebrate love in the best way right here.
Cards for their special day!
It's a nice day for a white wedding...
Weddings are always magical days, whether you're the one tying the knot or you're lucky enough to get to be a part of someone else's big day. They are a fantastic opportunity to celebrate love and create amazing memories that the happy couple can cherish.

But if you're planning a wedding or even getting ready to go to one, you'll also know that they take a lot of preparation. Luckily, we are making weddings easier with our brilliant range of cards, gifts, wrap and planning products.

You'll find all the finishing touches you need to make your wedding incredible or to spoil the happy couple on the day,. Create stunning save the dates, wedding invitations and thank you cards to let everyone know when your day is and to say thanks for attending. As well as our in-store range, we have exclusive personalised designs that are printed to the highest quality and that you can add your own special touch to.

Our personalised wedding invitations also have Multibuy offers available, so you can create beautiful and personal designs for less.

We also have loads of wedding planning ranges to help you get everything sorted for your big day. From planners to "will you be my..." cards and wedding favours, you can get all those little things that help to make it a day to remember.

Share beautiful words with them on their day with our selection of wedding cards. You can choose from our gorgeous in-store range, or create a unique card just for them with our personalised or photo cards.

We also have stunning wedding gifts available. With traditional decorative horseshoes, gorgeous photo frames and champagne flutes available, you don't need to spend a fortune to give them a pretty wedding keepsake.

You can even personalise a gift with their names, photos or a message so they have something extra special to remind them of their big day.  Complete your gift with our selection of wedding wrap - which includes gift bags, boxes, ribbon and bows - to ensure it looks amazing ready for the special day.