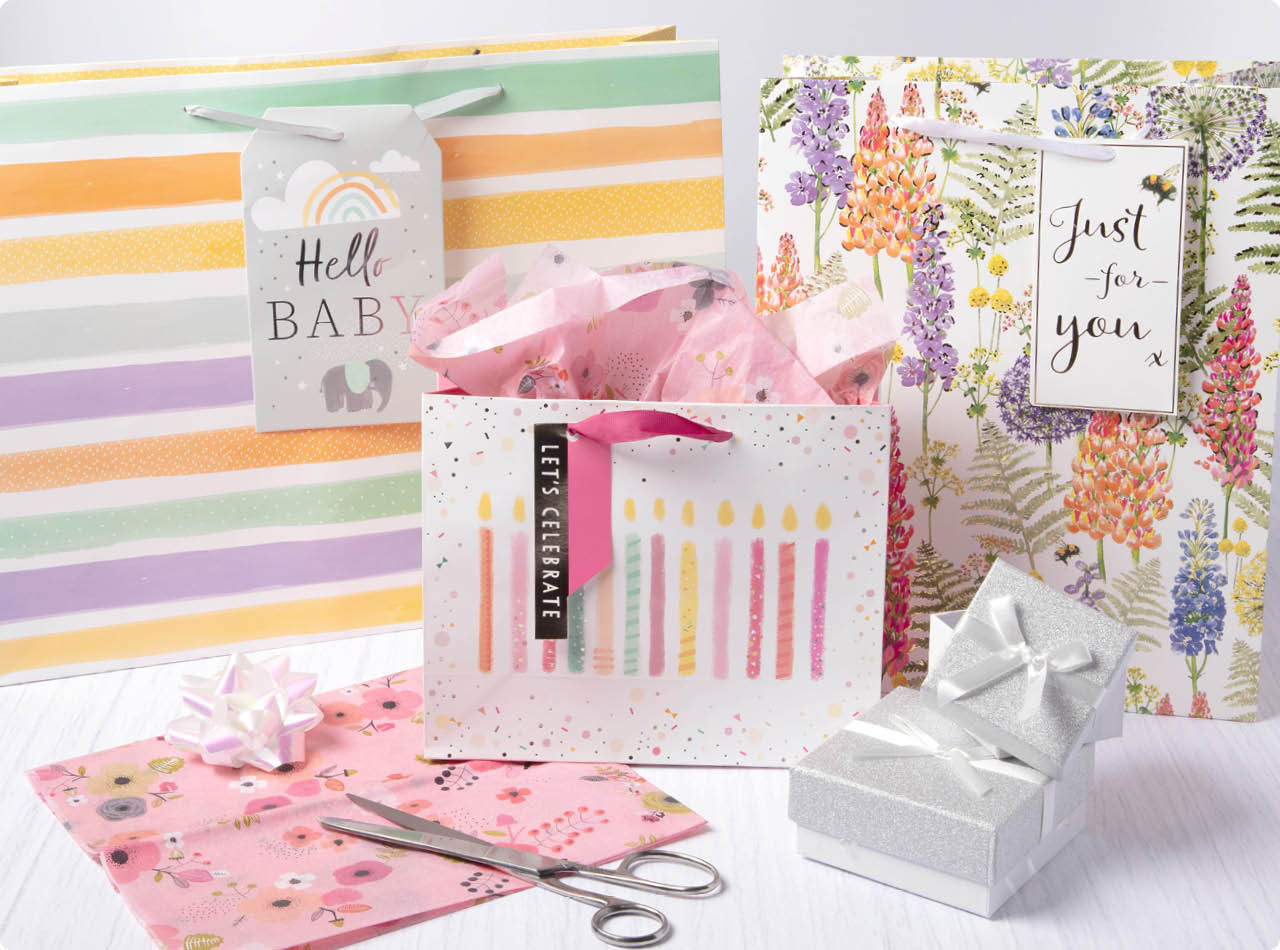 Gift Wrap, Boxes & Bags
When it comes to wrapping the perfect present, we have everything you need to make opening their gifts as fun as finding out what's inside. Our range of wrap includes gift boxes, gift bags and all the accessories you need to add that perfect finishing touch – including ribbons, tissue paper and more.
Celebrating something special?
Show-stopping gift wrap to add a final flourish to the perfect present!
Spent hours trawling through the shops and browsing online, before finally finding the perfect present? Then, it's time to get creative and make the outside look as spectacular as whatever's inside!

With a pretty piece of wrapping paper, a ribbon, and a bow or two, you can create an eye-catching gift that will stand out from the rest, and delight the recipient!

Wondering how to wrap their present so that it isn't a tangled mess, with layers of sticky tape and torn bits of gift wrap? We're here to help!

Instead of trying to wrap that wine bottle, why not put it in a brightly coloured bottle bag? It's an effortless, elegant way to display a bottle of their favourite tipple.

If you'd like to wrap a bottle of champagne, beer or wine, try laying the bottle on its side and rolling tissue paper around it, gathering the paper at the neck. Add a small piece of sticky tape to hold the tissue paper in place, and fan out the paper around the bottleneck. Add another layer of tissue paper or gift wrap in a contrasting colour, and then tie a ribbon around the neck. Attach a gift tag and bow, and your masterpiece is ready to go!
Can't decide which wrapping paper and ribbon to buy? Why not add a personal touch by mixing and matching your wrapping accessories? Try blue wrapping paper with bright orange ribbon or yellow gift wrap with purple ribbon. A twinkling, silver glitter gift box looks fabulous when filled with hot pink, shredded tissue paper. And, wrapping each present in patterned tissue paper before adding your gift wrap adds a professional touch.

Once you've wrapped the present, don't forget a show-stopping accessory. It'll add a finishing touch to your gift bag or wrapping paper. Why not attach a shimmering curling ribbon and a sparkly fountain bow, or a satin ribbon and matching bow?

Whichever wrapping paper, gift box or ribbon you decide to use, make sure you add a tag with a handwritten note. Otherwise, no one will know where that beautifully wrapped gift came from!