Personalised cards
Here at Card Factory, you'll find a huge range of fantastic personalised cards for sale online, starting from only £1.79. Whether you're searching for personalised birthday cards, new baby designs or congratulatory greetings cards, there's something for all occasions! Add names, dates, messages and photos to create a totally unique card for your loved ones. You can edit the front, inside or both in a few easy steps online, and have your card delivered to you or straight to their door – simple!
You'll also be pleased to hear that all our personalised cards come with FREE 1st class delivery!
Personalised birthday cards
Say it in your own special way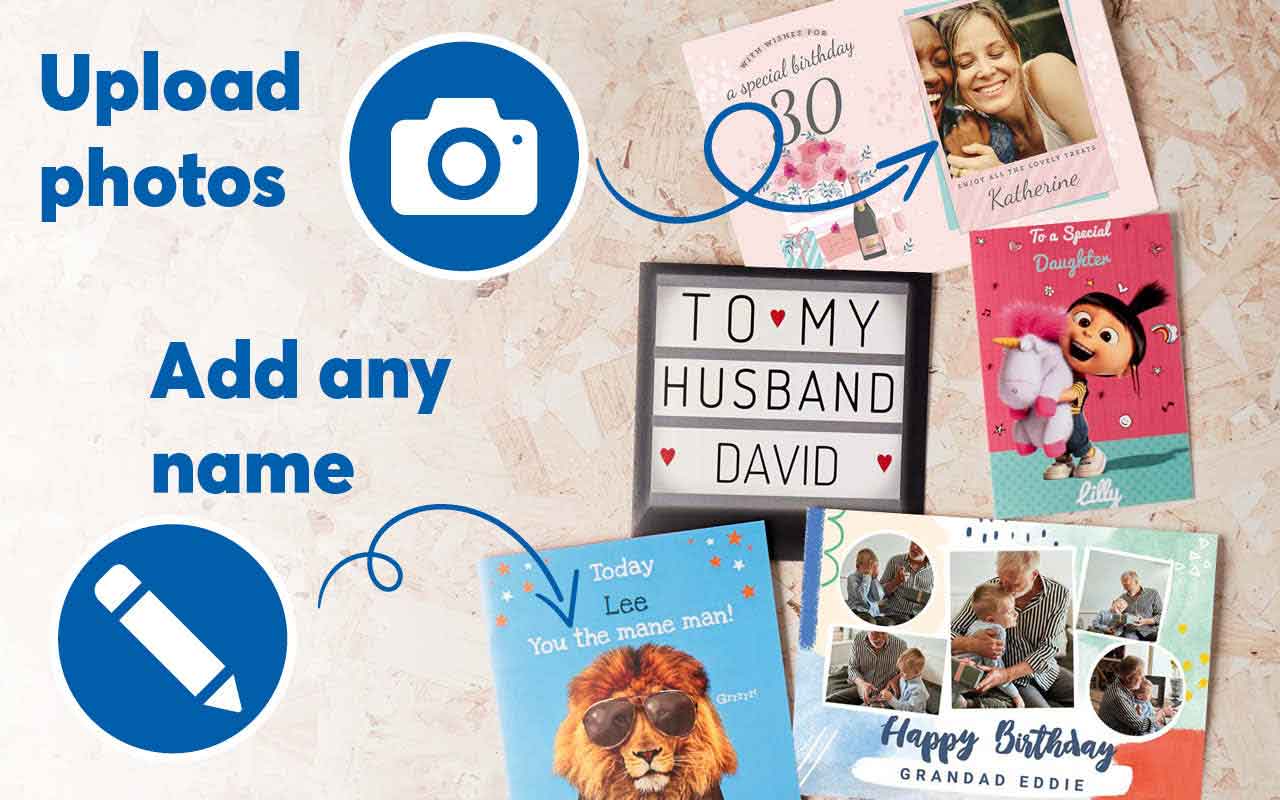 It's easy to make personalised birthday cards - and they come with FREE delivery! Find the perfect card, make it your own, and send it to the birthday boy or girl - all without breaking the bank.
Shop by style
Whether you want to add photos, give them a giggle, or give something back, we've got what you're looking for
Featured designers
Check out some fantastic designs by talented illustrators we're proud to work with
Create a special card for a special occasion
We think a great card shouldn't have to cost a fortune. That's why we have a huge range of personalised cards for sale online starting at just £1.79. From anniversary and personalised birthday cards to congratulations and party invitations, our exclusive collection has something suitable for any occasion.
If you're keen to send an extra special greeting to a loved one, our personalised cards are the perfect choice. They allow you to create something unique and heartfelt in a few quick and easy steps. Simply add their name, age or a thoughtful message to the front of one of our cards online, then write your own message inside.
Want to add a funny picture? Then choose one of our fantastic photo-upload cards which can feature between one and 12 images, depending on the design.
Upload photos from your device or Facebook to create one of our personalised cards in a matter of minutes.
No matter which you choose, rest assured that all our personalised cards are made to the highest possible standard and are exclusive to us. This means that you can take advantage of high-quality greetings cards at low costs – so both your loved ones and your bank balance are happy!
Even better, whether you need anniversary, new baby or birthday cards, delivery is included with all our personalised cards as standard. Once you've customised and bought your card online, we'll send it 1st class!