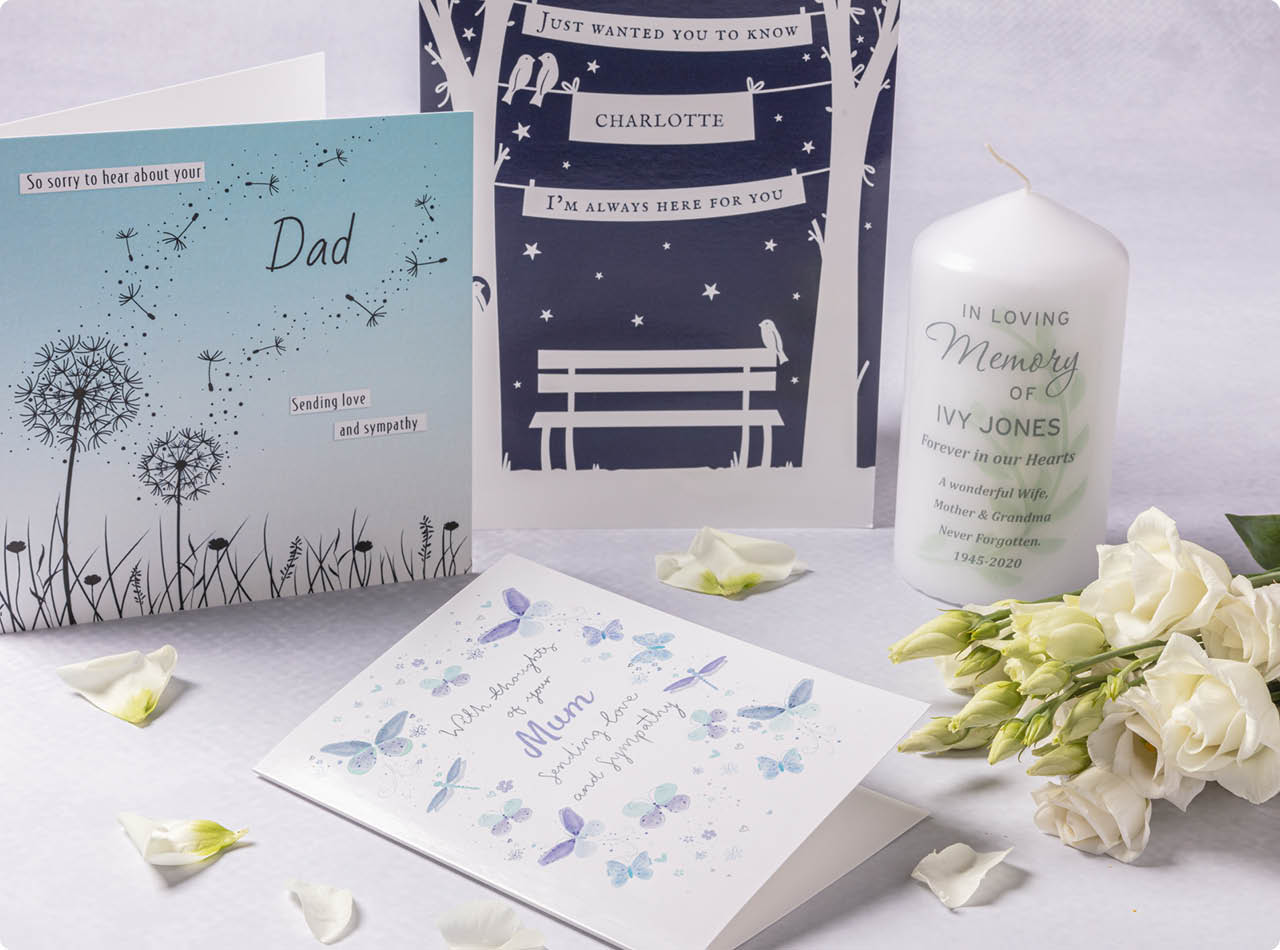 Memorial & Remembrance Cards & Gifts
Create a wonderful way to remember someone special with our beautiful range of memorial and remembrance cards and gifts. We have beautiful personalised and in-store gifts, as well as custom cards and cards as seen in store. From candles to photo frames, there's something here to make you smile while reminding you of the good times you shared with someone who'll always be close to your heart.
Remember someone special
They may be gone, but they'll never be forgotten. Remember someone special, or help someone else remember a loved one with our range of beautiful personalised memorial cards and gifts for the home.

Our personalised memorial and remembrance cards feature heartfelt words, and can be personalised with a photo of your loved one, names and more. You can also add your very own message inside. They're perfect for sending to someone who's sadly grieving.

Our memorial cards can also be used as orders of service. You can order many of the same card design and add all the details of their funeral or memorial service inside. They also make lovely keepsakes to help everyone remember someone very special.

If you'd prefer to send or keep a non-personalised memento of a loved one, we also have in-store memorial cards featuring pretty designs and sentimental verses that'll remind you of them every day. They act as a lovely keepsake.

We also have a range of sentimental memorial and remembrance gifts you can personalise. A memorial candle with their name on is perfect for putting somewhere special at home and is ideal for quiet reflection. Whenever the candle is lit, you can think about the wonderful times you shared with your friend or relative.
Why not purchase a personalised photo frame? As well as adding their name or a heartfelt message to our frames, you can use them to display your favourite photo of your loved one in your home for all to see. Choose their favourite snap, or one of you both spending time together.

Our remembrance and memorial gift range also includes personalised baubles. They're not just for Christmas – that can be displayed all year round anywhere in your home. They also make gorgeous, heartfelt gifts for someone you know who's sadly lost a loved one. Add names, photos and more to make them special.

Be sure to explore our beautiful sympathy cards too. We have both in-store and personalised designs to choose from, which are perfect for sending your love to someone who's experienced loss.