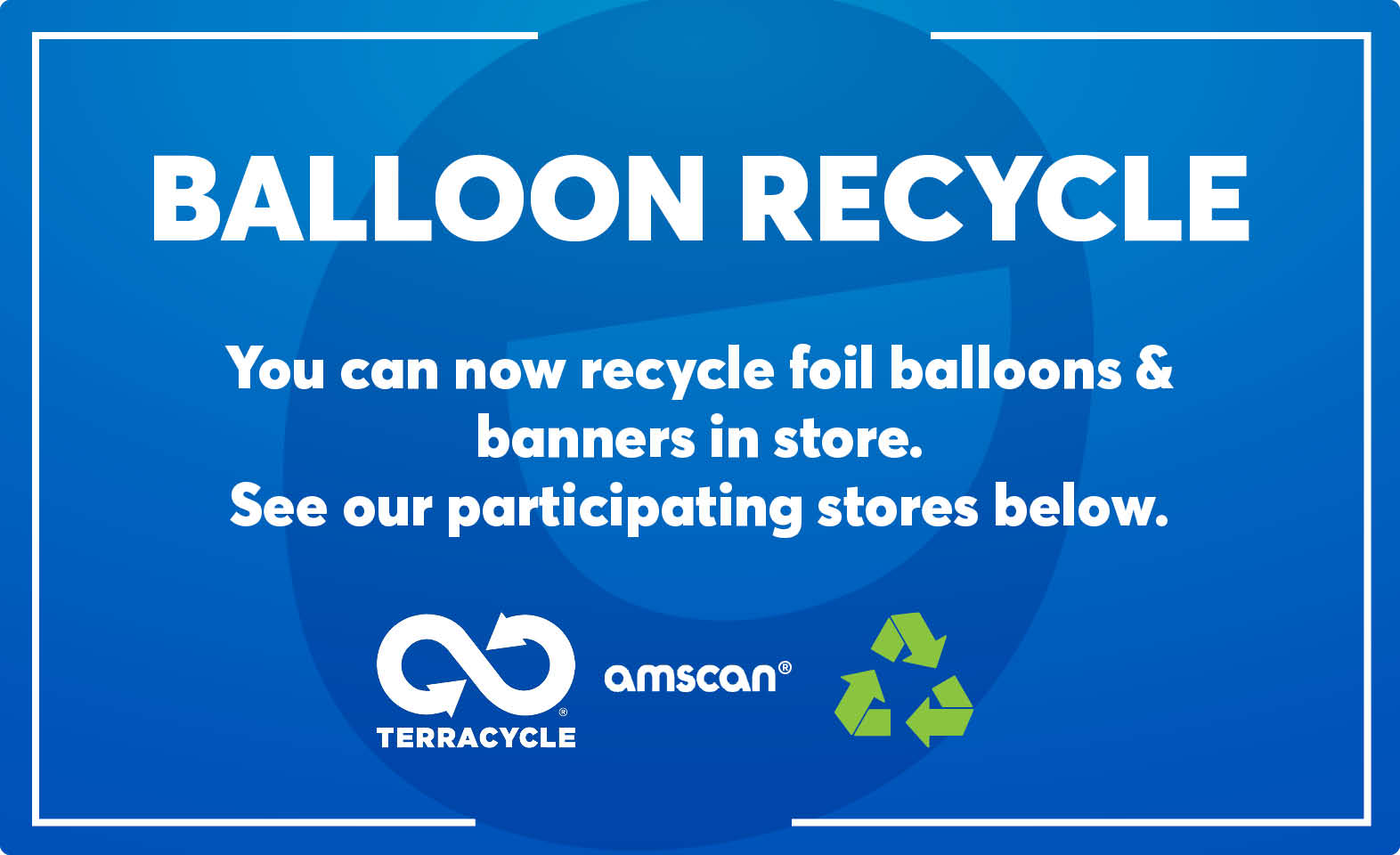 Let us recycle your foil balloons
We are super proud to have partnered with terracycle and Amscan to create a free foil product recycling programme, initially available in 500 of our stores. It's super easy, simply take any foil balloon or banner and place it in the cardboard box provided and TerraCycle will do the rest.
What can be recycled?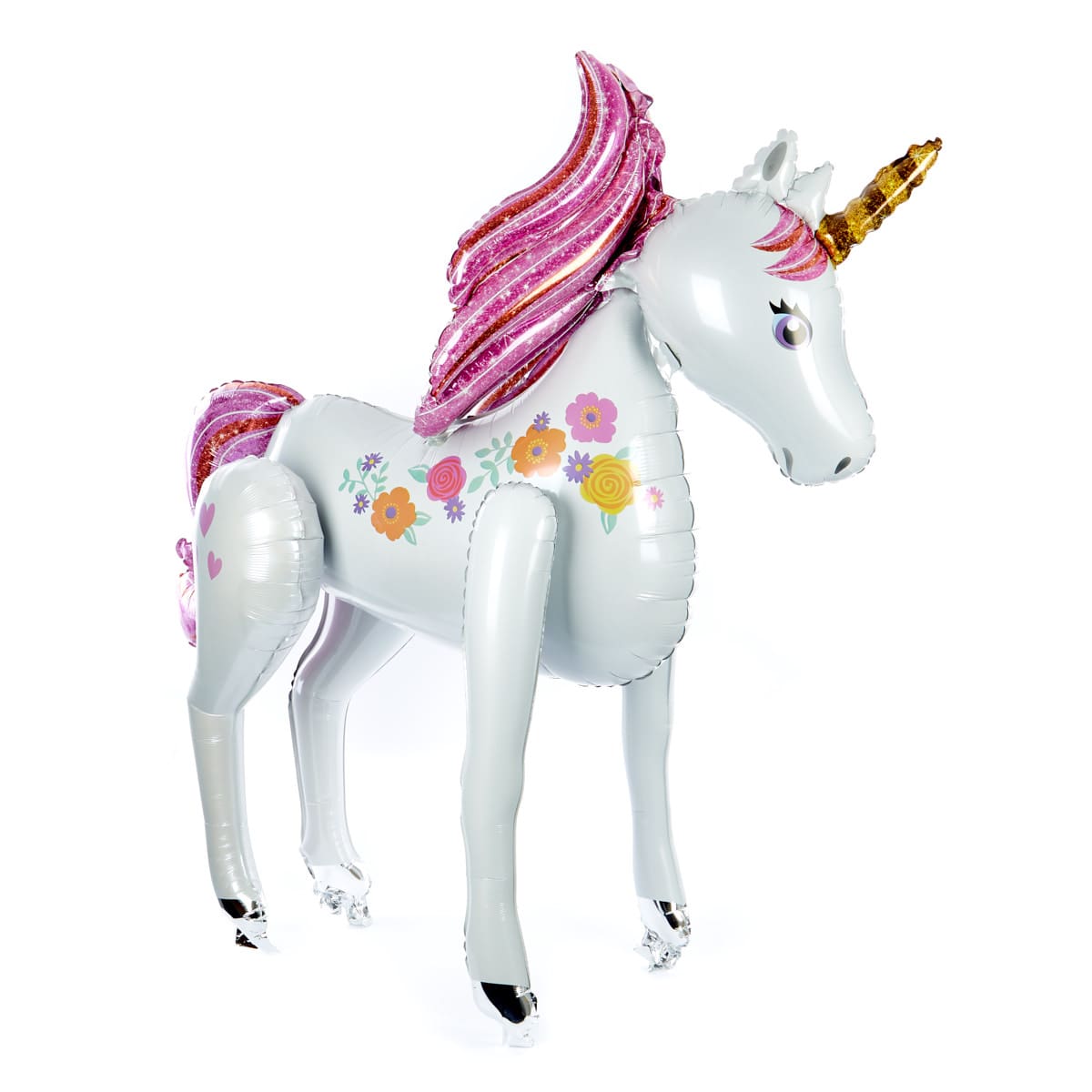 All brands of foil balloons and foil air walkers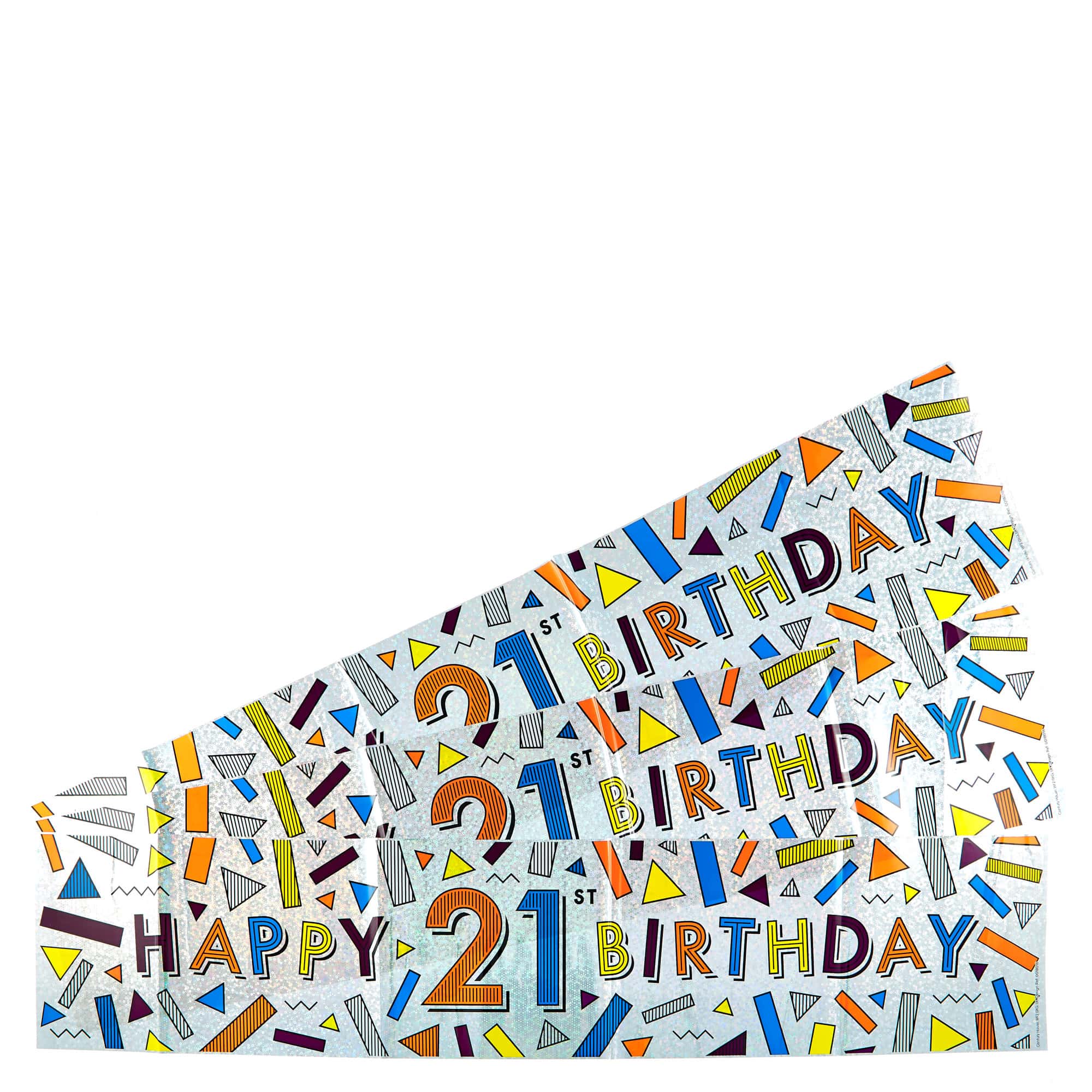 All brands of foil banners and sashes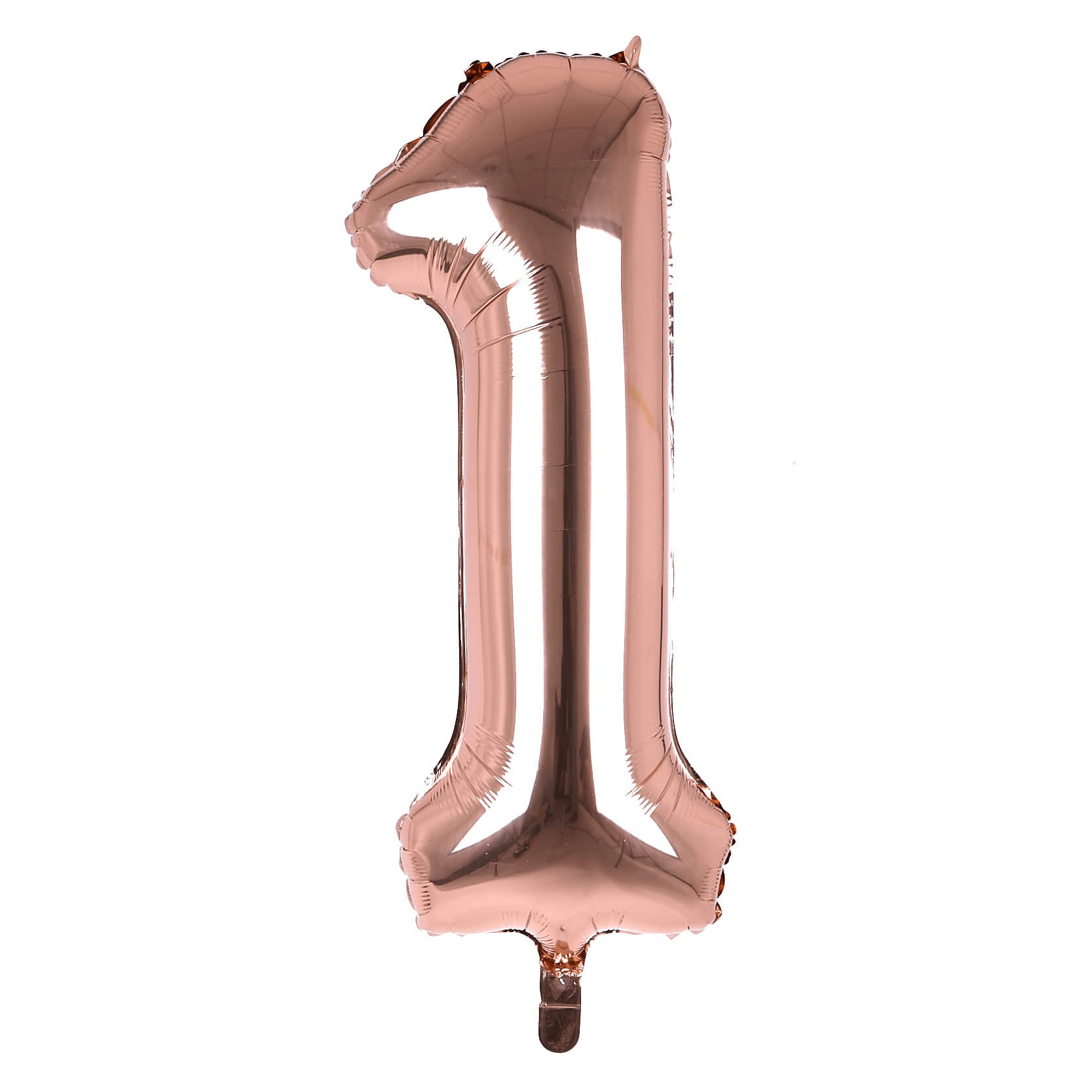 Plastic packaging for foil balloons and airwalkers
How does it work?
Once collected, TerraCycle take your foil balloons and banners away to be shredded and melted into plastic pellets. These plastic pellets can then be remolded into new products. For more detail on the recycling programme and a map of participating stores click here
Participating Stores
Aberdeen Trinity Centre
Aberdeen Westhill
Abingdon
Accrington (Relocation)
Acocks Green
Airdrie
Alton
Altrincham
Andover Relo
Armthorpe
Ashford Fir Tree Place
Ashford Relo
Ashton under Lyne Relo
Aylesbury Hale Leys Centre
Ayr
Balfast Boucher NI
Ballymena Fairhill NI
Ballymena NI
Banbury Relo
Bangor Bloomfield NI
Bangor Deiniol SC Wales
Barking
Barkingside
Barnstaple (Relocation)
Basildon Pipps Hill RP
Basildon
Basingstoke
Bath
Bearwood
Beaumont Leys
Beckenham
Beckton
Bedford
Belfast Abbeycentre NI
Belfast Castle Court NI
Belfast Cityside RP NI
Belfast Connswater NI
Belfast Kennedy Centre NI
Belfast Park Centre NI
Belle Vale
Benwell
Bexleyheath Broadway
Bicester
Biggleswade
Billericay
Bilston
Birchwood (Relocation)
Birmingham Fort
Birmingham High Street (Relocation)
Birstall Leeds
Bishop Auckland RP
Bishop Stortford
Bitterne
Blackburn Relo
Blackheath
Bluewater
Bognor Regis
Bolton 2
Bolton Breightmet
Bolton Middlebrook RP
Bootle Parkside
Borehamwood
Bracknell Relo
Bradford Broadway
Bradford Idle
Bradford Victoria Morrisons
Bradley Stoke
Braehead Intu
Braintree
Brentwood 2
Brighouse
Brighton 2
Brighton
Bristol Broadmead
Bristol Fishponds
Bromborough
Bromley High Street
Brownhills
Brynmawr
Bulwell
Burgess Hill
Burnley
Burton on Trent Octagon
Burton upon Trent
Bury St Edmunds
Bury The Rock
Camberley
Camberwell
Cambridge
Cameron Toll Relo
Cannon Park
Cardiff Albany Road
Cardiff Queen Street
Cardiff St Davids
Carlisle Relo
Castle Bromwich
Caterham
Catford
Catterick Garrison
Chatham Units 32/33
Cheadle
Chelmsford Meadows
Chelmsley Wood Relo
Cheltenham Regent Arcade
Chester Broughton
Chester Coliseum
Chester
Chichester
Chineham
Chingford
Chippenham
Chorley
Cirencester
Clacton Factory Outlet
Clacton
Cleethorpes
Cleveleys
Clydebank
Colchester Culver Walk
Coleraine NI
Connah's Quay
Corby Relo
Cosham
Coulby Newham
Coulsdon
Coventry Arena
Coventry The Precinct
Coventry Warwickshire SP
Cowley
Craigleith RP
Cramlington Relo
Crawley County Mall
Crawley
Crayford
Crewe
Cribbs Causeway
Crosby Glenn Buildings South
Croydon 83-85 North End
Croydon Whitgift Relo
Crystal Peaks
Cumbernauld Antonine Centre
Cwmbran
Dagenham
Dalkeith
Dalston
Dartford
Daventry
Denton Crown Point RP
Derby Alvaston
Derby Westfield
Derry Foyleside NI
Derry Lisnagelvin Tesco NI
Devizes
Didcot
Doncaster (Relocation)
Doncaster Wheatley Hall RP
Dover St James
Downpatrick NI
Dumbarton
Dumfries Relo
Dundee
Dungannon NI
Dunstable
Durham Arnison RP
Durham Dragonville RP
Ealing
East Grinstead Unit 3
East Ham
East Kilbride Plaza
Eastbourne Relo
Eastleigh Relo
Edgeware
Edinburgh Gyle (Relocation)
Edinburgh Princes Street
Edmonton Green
Egham
Elgin
Eltham
Ely
Enfield
Enniskillen Unit 1 NI
Epping Forest RP
Epping
Epsom Relo
Erdington
Eston Tesco
Exeter
Fareham Whiteley Tesco
Fareham
Farnworth
Feltham
Fleet
Folkestone
Fort Kinnaird Unit 7E
Freeport Castleford
Freeport Talke
Gainsborough
Gallowtree
Gateshead Metro Centre
Gateshead Metro
Gateshead Team Valley RP
Gillingham
Glasgow 202 Sauchiehall
Glasgow 43 Argyle
Glasgow Argyle
Glasgow Forge
Glasgow Fort
Glasgow Maryhill
Glengormley Tesco NI
Glenrothes Lyon Way
Gravesend
Great Yarmouth
Greenwich
Grimsby
Guildford
Hackney
Hailsham
Halewood
Halifax
Harlow Broad Walk (Relocation)
Harold Hill
Harpurhey
Harrow
Hartlepool Teesbay RP
Harwich
Hayes Lombardy SP
Hayes
Haymarket
Hednesford
Hemel Hempstead Unit 42
Hempstead Valley
Hereford Maylord Street
High Wycombe eden centre
Hitchin
Hoddesdon
Holloway
Hornchurch
Horsham
Hounslow
Hull Hessle Road
Hull Holderness Road
Hull Kingswood RP
Hull St Stephen's
Huntingdon
Hunts Cross Asda
Huyton
Hylton Riverside RP
Ilford 2
Ilford The Exchange
Inverness RP
Ipswich Martlesham RP
Ipswich
Irvine Relo
Kettering
Kidderminster Weavers Walk
Kilburn
Killingworth
Kings Heath
Kingston Eden Walk
Kingston Park Unit 8
Kirkby
Kirkcaldy Relo
Kirkintilloch
Kirkstall Retail Park
Lakeside Retail Park
Lakeside West Thurrock
Lancaster Relo
Leamington Spa The Parade
Leatherhead
Leeds Crown Point
Leeds Lands Lane
Leeds White Rose Relo
Leicester St George's RP
Leigh
Letchworth
Lewisham Relo
Leyland
Leyton Mills RP
Lichfield
Lisburn NI
Liverpool Country Road
Liverpool Edge Lane
Liverpool One Unit 39
Liverpool St Johns (Relocation)
Liverpool Stonedale
Livingston Relo
Llanelli Trostre RP
Long Eaton
Longbridge
Longton
Lurgan NI
Luton Arndale (Relocation)
Macclesfield Mill Street
Magherafelt NI
Maghull
Maidenhead
Maidstone Unit 309
Maidstone Week Street
Malvern
Manchester Arkwright Way
Manchester Arndale
Manchester Fort
Mansfield Relo
Market Harborough
Meadowhall Relo
Merry Hill 42nd Street
Merry Hill Asda
Merry Hill
Middlesbrough Linthorpe Road
Middleton
Milford Haven Unit B1
Milton Keynes MK1 RP
Milton Keynes Relo
Milton Keynes Westcroft
Moreton
Motherwell Relo
New Addington
New Malden
Newark Relo
Newcastle Upon Tyne
Newmarket
Newport Isle Of Wight
Newport Spytty Road
Newry Buttercrane NI
Newton Abbot
Newton Mearns
Newtownards Ards NI
Norris Green
North Watford Asda
Northampton Relo
Northfield Relo
Northwich (Relocation)
Norwich Haymarket
Norwich Riverside RP
Nottingham Victoria (Relocation)
Nuneaton
Oadby
Old Swan
Oldbury
Oldham
Omagh NI
Openshaw
Orpington Nugent
Peckham
Penge
Perry Barr
Perth
Peterborough Bretton
Peterborough Ortongate
Peterborough
Pinner
Pitsea
Plymouth New George Relo
Plympton
Pontypridd 2
Port Glasgow
Port Talbot Relo
Portslade
Portsmouth 2
Portsmouth Ocean RP
Potters Bar
Poulton le Fylde
Poynton
Prestatyn
Preston Deepdale SP
Ravensthorpe
Rawtenstall
Rayleigh
Reading Broad Street
Redcar
Redditch (Relocation)
Redhill Unit 1a Belfrey
Rhyl
Rickmansworth
Rochdale Relo
Romford Collier Row
Romford Lockwood
Rotherham Parkgate
Rugby
Ruislip
Runcorn (Relocation)
Rushden Lakes RP
Rustington
Sale
Salford
Scarborough
Scott Arms
Scunthorpe Skippingdale RP
Seacroft Tesco
Seaham
Selby
Selly Oak
Serpentine Green
Sheerness
Sheffield Parkway
Sheffield St James RP
Sheldon
Shepherds Bush
Shirley 2
Shrewsbury RP
Silverburn
Sittingbourne
Slough Relo
Solihull 3 Mell Square
Solihull Relo
Southampton 2
Southend 165 High Street
Southport Central (RP)
Spalding
Speke
St Albans
St Helens Church Street
St Neots
Stafford Relo
Staines Relo
Stanford le Hope
Stanmore
Stirling
Stockport 2
Stoke Morrisons
Stratford Westfield
Stratford
Streatham
Stretford Relo
Strood
Sudbury
Sunderland
Surrey Quays
Sutton 1
Sutton 2
Sutton Coldfield Mere Green
Sutton Coldfield Relo
Swadlincote
Swanley
Swansea 809 Oxford Street
Swansea Fforestfach RP
Swindon Canal Walk
Swindon Orbital RP
Swinton Relo
Taunton
Telford
Thornaby
Thorpe Park
Tonbridge
Tooting
Trowbridge
Truro
Tunbridge Wells
Tunstall
Uckfield
Urmston
Wakefield Snowhill RP
Walkden
Wallasey Relo
Walsall (Relocation)
Waltham Cross
Walthamstow
Walton On Thames
Walton Vale
Wandsworth
Warrington (Relocation)
Warrington Westbrook
Washington (Relocation)
Washwood Heath
Waterlooville
Watford Intu
Wellingborough Relo
Welwyn Garden City
Wembley
West Bromwich New Square
West Wickham
West Worthing
Weston Favell Relo
Weston Super Mare
Westwood Cross
Whitton
Wickford
Widnes
Wigan Robin RP
Wigston
Wilmslow
Winchester
Winsford
Winton
Wishaw
Witham
Witney
Woking
Wokingham
Wolverhampton Bentley Bridge RP
Wolverhampton Dudley Street
Wood Green
Woodley
Woolwich Relo
Worthing
Wrexham Relo
Yardley
Yate 2
Yeovil
York Clifton Moor